Rebates & Programs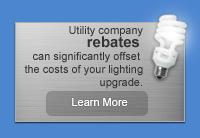 As a nation, we spend about one-quarter of our electricity budget on lighting, or more than $37 billion annually.
Resources - Government Programs
There are current government programs offering outstanding subsidies and credits for investing in energy efficiency. However, like many government programs, they can be overwhelming in detail and confusing to determine eligibility.
Desco experts have analyzed these programs, so they understand what works and what is needed to successfully qualify.
Our rebate and savings analysis will determine the net cost of your project after taking advantage of everything you are eligible for.
See also: Utility Rebates