Rebates & Programs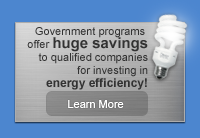 Aging lamps and dirty fixtures and room surfaces can reduce total illumination by 50% or more.
Resources - Utility Companies: Financing & Rebates
Many utility companies throughout the United States are currently funding rebate programs for lighting retrofits and other energy saving strategies. Additinally, special financing is sometimes offered. These programs offset the costs of your lighting upgrade significantly.
New for SCE Customers - On-Bill Financing
Are you a current SCE customer? There is a great new financing program available - direct from SCE!
SCE's On-Bill Financing allows eligible SCE customers to make payments as part of a line item on their SCE bill. For qualified energy-efficient equipment, you'll enjoy:
0% interest loans
No fees or loan costs
Convenient loan repayment through your monthly SCE bill
Financial incentives for installing qualifying energy-efficient equipment
Lower monthly electricity costs from the installation of your energy efficiency project
Long-term energy savings
We can help you with all the details. However, more information can also be found on the SCE website, here (note: this program is pending CPUC approval).
DESCO - Taking the Confusion out of the Programs
Rebate programs are constantly changing and are often confusing. DESCO takes the confusion out of the program, allowing you to maximize your return on investment.
Most industrial and commercial facilities in Southern California are not even aware that their utility companies have allotted a rebate for them – which is lost if not used. There is a reason for this. Utility companies generally do not advertise their rebate programs, so you only learn about the potential rebates when energy saving companies like us approach you.
As specialists in this area, DESCO assures its clients the procurement of the highest possible utility rebate, whether it is from the electric company, the gas company or a Government or State sponsored program.
Get Your Rebate Quickly, Conveniently
Over the past decade we have assisted in acquiring millions of dollars in utility rebates nationally to upgrade inefficient lighting systems. We work closely with utility companies across Southern California. Our relationships in Southern California include Southern California Edison (SCE), Southern California Gas, Pacific Gas and Electric Company (PG&E), Los Angeles Department of Water and Power (LADWP), Anaheim Utilities, San Diego Gas & Electric (SDG&E), and others.
Getting Started
To find out what programs are available in your area today, contact us.
In addition, we offer a free audit of your facility that will not only cover any rebate programs you are eligible for, but will also give you an idea of your potential monthly energy savings.
See also: Government Programs